Louise Blog
Director's Blog – July 29, 2018
SCOOBY DOO GAMES 2018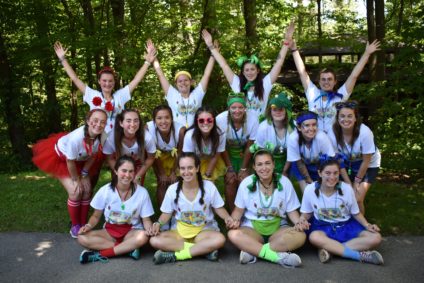 What started out as a regular day quickly took a detour. During my breakfast announcements today, I told everyone we had a lost dog, but we know he is somewhere in camp so please keep an eye out. The gasps and worried faces were so sad, but then I quickly added that you may recognize him because his name is Scooby Doo. And the crowd went wild! Captains, CIT lieutenants, and co-captains came running out into the Dining Hall to the sounds of Scooby Doo music. Teams were announced:
Red – Velma
Yellow – Daphne
Blue – Fred
Green – Shaggy
And the theme of breakfast was everyone had to RALK RIKE ROOBY – talk like Scooby.
Everyone went back to change after breakfast and the tutus, face paint, high socks, and crazy costumes came out! The morning was filled with team meetings and games on the field and in the pool.
We all gathered back together for a staff all-time favorite – SILENT LUNCH. With over 650 people in the Dining Hall, you could hear a pin drop…it's a magnificent thing!
This afternoon, we had Bucket Brigade and more games all around camp. After snack time and a final team meeting, everyone was eager for Don't Split Up Gang Dinner. Everyone had to buddy up and tie themselves to a partner to eat. It was quite a sight – for Pasta Night!
We can't find Scooby but we can find counselors….led into Counselor Hunt and then my personal favorite – Closing Ceremonies. Each team presented skits, songs, and banners.
The spirit in camp today was amazing and the sportsmanship was commendable. But everyone was definitely excited to hear the winner of Scooby Doo Games 2018…
Green – Shaggy
Zoinks! What a fantastic day!
Alicia
[bq_color]
Today's Birthdays

Drew – Bunk 28
[/bq_color]
Today's Menu
[table "" not found /]
Today's Weather

High: 84°F | Low: 67°F
We couldn't have asked for a better day for Color Games!