Airy Blog
Director's Blog – July 29, 2019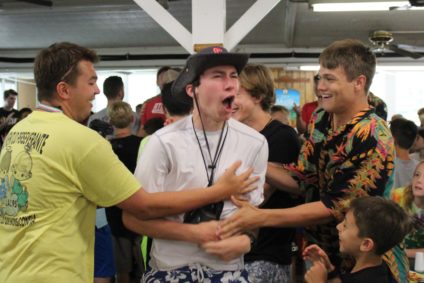 "And You're Gonna Hear Me Roar …"
"Fake out" is a relatively new term up here at Camp. What is means is building up an audience's excitement and anticipation, and then leave them hanging. Such is the way of present day Camp Airy Olympic General Announcements.
But it wasn't always this way. Once upon a time (last century, as I like to say), Olympic Generals were announced on Wednesday morning, Week 3 and Week 7. Back then, all staff were in camp from Tuesday 5:30pm until Wednesday 5:30pm. As campers and staff entered the dining hall for breakfast, two envelopes were waiting on the tables of two unsuspecting generals. Counselors would arrive at their tables, see the envelope, and celebrations ensued. Fast forward to the present … most staff are in camp for most Tuesday-into-Wednesday chunks of time, but when you factor in the various out-of-camp trips, not everyone is around. So we look to surprise campers and staff when we announce generals, and how we announce generals.
Today was the day. We had been "faking out" campers and staff all week … at morning line-ups, camp-wide shows, meals, etc. With so many fake outs, we had thrown a bunch of people off the scent. After all three shifts were in the dining hall, I asked for everyone's attention – so we could welcome the new Rookie campers. The meal was meatball subs, and I "apologized" for not having a "Pizza Man" song and a pizza meal. I asked our Assistant Director Rachael to play some other festive songs – first "Cheeseburger in Paradise," then "Fruit Salad – Yummy Yummy." Neither worked. I asked for one more attempt, and the Olympic Theme played. The crowd began to buzz, I announced the "official Camp Airy Olympic time," and named the two Generals for the August 2019 Camp Airy Olympics – Julian A. (pictured) and Julian L.
Team colors and team drafting to happen soon.
So long until the next blog,
Marty
Today's Birthdays

Happy Un-Birthday to All!
    BLOG SPOTLIGHT – Unit A

If you know your ABC's, this is something you can do, too! I'm just not sure if you will outshine our Unit A Campers and their success story of this evening. For those who are not sure what the ABC relay is, I care to explain. This activity is where one person from each time, will run to their gold mine of stuff – in our case, their bunks. Before running, the team member will be given a letter and will be scored on speed and creativity. We knew that the campers would do a phenomenal job with this activity, but what we didn't expect, is some of the stuff they brought back. Of course, our campers are super-fast, being young, energetic and sugar rushed from campteen, but we never realized the things they had in their bunks. When the letter G was called, Bunk 27 brought back a Giraffe, precisely Melman from Madagascar! When the letter E was called out, somehow Bunk 22 brought the Eiffel tower… It baffled everyone! It's not even from this continent, but they definitely scored a point for creativity. Finally, the last bizarre find that was brought to the judging panel, was when the letter A was called out… Bunk 26 brought back Ariana Grande. Everyone was star-struck, but I what want to know is… How has she been at Camp for 5 weeks already and no one noticed?!
Levi, Unit A Unit Leader
Today's Menu
Breakfast , Lunch , Dinner
Scrambled Eggs | French Toast Sticks | Cereal | Fruit | Yogurt , Meatball Subs | Tater Tots | Salad Bar | Pasta Bar | Popsicles , Thanksgiving in July | Turkey | Stuffing | Mashed Potatoes | Cranberry Sauce | Cornbread | Salad Bar | Pasta Bar |

Today's Weather

High: 90°F | Low: 71°F
AGAIN … a splendid sunny (and warm) day!