Louise Blog
Director's Blog – July 3, 2015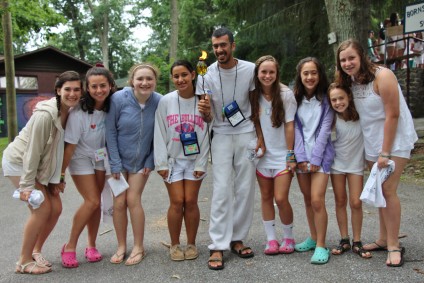 Similar to last week's Shabbat blog, I would like to discuss our Middah Program. This is an initiative that guides us as we go through the week. This week's middah was happiness/joy (simcha). Throughout the week, we spend time talking about what makes us happy and how we can spread happiness to others. One of my favorite discussion points was:
It's easy to be happy when everything is going your way. The challenge is to be happy when it's not. How do you react when you don't like an activity or the food that's for lunch? How do you find happiness when life isn't what you want or expect it to be?
This can be challenging, but it is something that is important for us all to remember in our lives because as we all know – not everything will always go your way.
Campers and staff are nominated to light candles during our Shabbat services on Friday night because they have demonstrated the Middah of the Week. When nominated, their friends and counselors tell why they are recommending that a specific person should be chosen to light candles. When I read this week's list of nominations and the reasons why, it made me truly smile. Some things I read:
"This person is always happy….spreads joy to others…her laugh is contagious…she clearly loves camp…full of joy all the time…always fun to be around…cheers you up when you are not in a good mood….helped me overcome a fear…participates with a positive attitude…always super helpful cleaning up after meals…always willing to help a friend in need…she has made it a goal to spread joy to others…always energetic and happy."
And the list goes on…..
Let's all spend a little time this week reflecting on our own happiness and how we can help spread a little joy to others as well.
Shabbat Shalom!
Alicia
Today's Birthdays

Alejandra – Bunk 28
Victoria – Bunk 7
Pam – Photographer
Calli – ST Counselor
Today's Menu
[table "" not found /]
Today's Weather

High: 78°F | Low: 67°F – Another beautiful day here at camp – no humidity, slight breeze, sun shining!  Looking forward to more of these days at camp!