Louise Blog
Director's Blog – July 30, 2015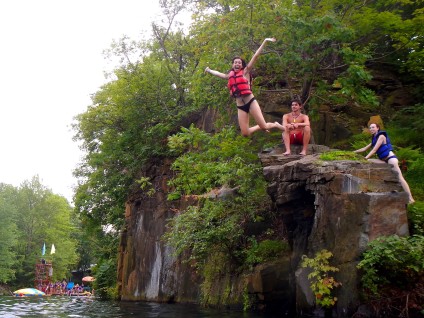 Our 3 year Leadership Training Program is a highlight of our campers' experiences here at camp. It is definitely an aspirational arc for many of our campers. I spent some time with each group today as they shared with me their thoughts on their overnights. They came back to camp last night exhausted but definitely happy and with lots of great memories.
The STs (rising 10th graders) went to Cedar Point, Ohio. They spent time at the indoor water park at the hotel where they were staying. Being in the hotel, they felt a sense of responsibility that they really loved. One ST said that she knew the counselors were there and were supervising, but it just felt different than being in camp.
The following day, they went to Cedar Point Amusement Park where they enjoyed being with friends and riding roller coasters, giant swings, and enjoying the beautiful scenery of Canada and Lake Erie. The STs could not stop telling me about the bonding that occurred on the trip. They told me that they loved every minute of it! One ST said that she hadn't spent real quality one-on-one time with each and every person before this trip but now she can honestly say that she has. Not only did they bond with each other, but also with the Airy STs. They unanimously felt that the long bus ride was well worth the trip!
I also had a chance to talk to the CAs (rising 11th graders) today. They had a really fun time on their overnight as well. They told me that during their trip, they all overcame challenges – both physical and mental. This overnight consisted of a 4 mile hike, 6 miles of canoeing and 11 miles of biking. One CA even remarked that it was a test of communication skills between friends as they canoed together, trying to stay right-side up. And once again, I heard lots of positive comments about the bonding that took place between the girls and the boys.
Finally, I had a nice chat with the CITs (rising 12th graders) about their second overnight of the summer! Working with Jewish Volunteer Connections , our CITs spent a day doing community service projects in different parts of Baltimore.
Some of them went to Paul's Place to serve meals to families in need. This is also the organization that I wrote about in my blog on July 27th when we did our Louise Lends a Hand activity. The CITs got to see firsthand where the food that we made went and who it benefitted. Some CITs washed dishes, some served the food, and others greeted the families coming for lunch. The CITs said it was such an amazing experience for them – to see people their age coming in for a meal.
Other CITs went to the Maryland Food Bank to pack food for the community, while another group went to the Living Classroom. The CITs were surprised to see a farm in the middle of an urban development. They thought it was really unique. The CITs did farm work and made seed packets for a camp program. Yet another service project involved CITs going to 6th Branch. At this location, the CITs picked kale, weeded a garden, broke concrete, and moved rocks. Wherever the CITs went, they all felt that they made a difference. One CIT told me that it was an eye-opening experience and it made her realize how lucky she is.
After this day of service, the CITs headed to Delta, PA for a campout and night swim at Guppy Gulch (see picture). The next day was spent at this water park with aquatic climbing gyms, waterslides, zip lines, water trampolines, boulder jumping, climbing walls and the BLOB! The CITs told me that they loved the time to relax and chill out. It was laid back and there were so many great things to do. Everyone told me how happy they were. They loved the "unstructured free time" to bond and hang out with each other. One CIT told me that she was skeptical about the place before arriving, but it turned out to be beautiful and so much fun! Another CIT described it as a "little mini vacation."
No matter what the trip, all of the trainees had a fantastic time on their overnights. I am sure they will come home with many more stories! And the amazing memory making continues!
Alicia
[bq_color]
Today's Birthdays –

Another day of NO birthdays at Camp Louise!
[/bq_color]
Today's Menu
[table "" not found /]
Today's Weather

High: 91°F | Low: 64°F – A little drizzle in the afternoon didn't ruin our day!