Airy Blog
Director's Blog – July 31, 2017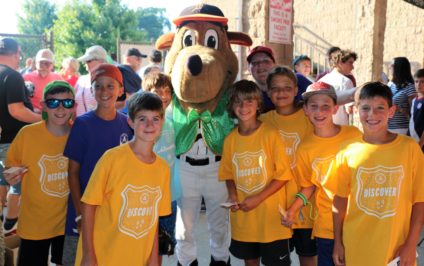 "Take Me Out to the Ballgame"
I love baseball. I'm a baseball guy. Some people will say that their favorite sport is football or basketball, but it's baseball for me. While we're away at camp, we can get our fix of baseball by attending home games played by the Hagerstown Suns (minor league affiliate for the Washington Nationals) or the Frederick Keys (minor league affiliate for the Baltimore Orioles). Tonight, we did both. Keeping up with a recent tradition, Airy Unit C campers attended a Keys game as part of their graduation process from junior camp. While the Unit C trip to Frederick had been in works for some time, the Hagerstown trip was another story. During our spring camp planning, we noticed a promotion for the Suns – "Belly Buster Monday." All you can eat stadium fare, and a soft drink. One thought camp to mind – TRAINEES. My expectation is that our CITs, CAs and STs got their money's worth.
Camp Airy and minor league baseball have a long history. A special trip out to a ball game was a big deal when I was a camper. For many years, we headed to Hagerstown to see the Suns. Our camp groups always sat on the 3rd base side. All game long, concessions and possessions would fall through the bleachers to the ground below. We screamed "O" during the national anthem, and we screamed even louder when the public address announcer said "Camp Airy" during the roll call of special guests in attendance that night. Local patrons would look and laugh with us as our international staff led us in typical soccer match cheers. And of course, we hounded the players in the bullpens along the fence for autographs. In the 1990's and onward, camp baseball trips also included the Frederick Keys at Harry Grove Stadium.
Two vivid memories from my camp experience have ties to these baseball trips. One is Dynamite Lady. As her name suggests, Dynamite Lady visited at ballparks all over the country and performed an explosive stunt – blowing up a box that she was in, emerging unscathed and smiling. We saw her in Hagerstown in 1990 – of course the game was delayed while the field was cleaned of the styrofoam box debris that had exploded around her. The second memory is more recent. We took the combined Airy-Louise staff to a Frederick Keys game during orientation 2015. When you bring a 350 person group to a minor league stadium on a weeknight, you get the royal treatment. Our music departments sang the national anthem on the field before the game started, and the honor of throwing out the ceremonial first pitch went to -yours truly (and Alicia, but this is my blog). I wound up, stepped and delivered a perfect strike (letter high) to the Keys' catcher. As we shook hands and he handed me the ball, he asked "Where's you pen?" No one had prepped me to carry a writing utensil for an autograph.
Life lesson – always carry a Sharpie.
Marty
Today's Birthdays
Jonathan B.
Today's Menu
[table "" not found /]
Today's Weather

High: 81°F | Low: 64°F
Another beautiful day in 21788!