Louise Blog
Director's Blog – July 31, 2017
HAVE YOU USED YOUR PAUSE BUTTON TODAY?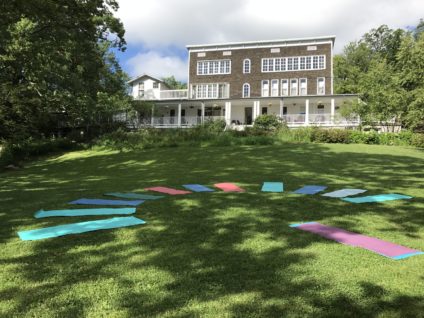 Our lives seem to be so busy, busy these days, it's hard to remember to take time to relax and focus on the now. Being screen free at camp definitely helps us do that. There are so many pressures in today's society for parents and children. At camp, we work very hard on taking a break from the "real world" and being present in the moment.
This session, we have a certified children's yoga and mindfulness instructor who happens to be an alum. She is so thrilled to bring these important concepts to our campers. Using a mindfulness-based approach to yoga instruction, campers learn to connect with themselves, each other and the environment. They learn how breath can help them calm their bodies and minds when they are stressed and anxious, and energize them when they are tired and need a boost.
During one activity, campers are asked to think about where they may find a pause button in their lives – TV remote controls, You Tube videos, DVRs, etc. What is the purpose of that pause button? Did you know that we all have an internal pause button? You can use your mind to stop and think before reacting to a situation. Oftentimes, we react instinctually instead of mindfully to life's challenges. This may result in making choices that may not be the best. When in your life would that pause button come in handy?
Campers also learn various yoga poses and how those poses can help them build confidence and strength. They learn how to focus their attention on a specific task, how to catch themselves when their minds start to wander, and how to bring their minds back to the moment. Finally, they learn how to relax their minds and body and be present in the moment. What a tremendously valuable skill for all of us!
It is our hope that the strategies our campers learn at camp they'll carry with them when they leave their summer home of Camp Louise.
Namaste,
Alicia
[bq_color]
Today's Birthdays

Stephanie – Bunk 15
Melanie – Counselor
[/bq_color]
Today's Menu
[table "" not found /]
Today's Weather

High: 83°F | Low: 65°F – Truly gorgeous day here at Camp Louise!