Airy Blog, Louise Blog
Directors' Blog – July 31, 2019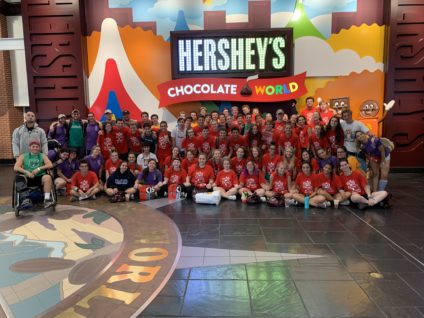 "No Sleep 'Til …"
BROOKLYN! Or since we're not the Beastie Boys, let's say Cedar Point or Greenbrier State Park or York, PA. Our Airy-Louise trainees returned from their overnights on Wednesday evening. The STs returned from Cedar Point a tad too late for us to get a first hand account, but we did receive this electronic update from a correspondent known as "Goober" …
Trip is great! When we got to the hotel, campers had the option to go to the beach or stay at the water park. Airy opted for the beach while Louise wanted the water park. Everyone connected back at the hotel for the pizza buffet and then whole-group time at the water park. We had short lines for rides on Wednesday because of early entry, and everyone is still enjoying their time at the park.
Airy Unit Leader Stephen shared this from the CA trip:
The CAs enjoyed an historiCAl overnight. The first day we canoed on the great Potomac river. We saw a bunch of different wildlife like Great Blue Herons, turtles, ducks, and frogs. After the canoe trip we biked on the C&O Canal tow path. We biked five miles north to Harpers Ferry, and once there we enjoyed some great ice cream. The next day we hiked three miles on the Appalachian Trail. In this hike we passed the original Washington Monument. We ended the hike at Greenbrier State Park, where we enjoyed a chill beach afternoon.
And last but not least, the CITs with our man on the scene, Zac:
We volunteered on 6 different projects around York, PA. Our service included working with kids at the York JCC day camp, gardening at an elementary school, landscaping at a farm, helping to sort and pack up donated gifts for a toy drive at Temple Beth Israel, shopping for and making/cooking 20+ casseroles for the local food bank, and socializing with seniors at the Country Meadows retirement home.
The CITs and staff worked hard and all reunited at the Wisehaven Swimming Pool, a pirate-themed local pool where a handful of Airy-Louise families attend. CITs from Camp Louise were thrilled to see campers from their bunk experience assignments from first session. We got pizza and salad for dinner back at the synagogue.
We spent some time at the JCC, where we played basketball and were also able to shower and refresh. Back at TBI, before we ended the night, we had a talent show showcasing campers from both camps.
Wednesday called for an early wake-up, and campers were excited about the fresh bagel breakfast. Our day was spent at Hershey Park. Several of the CITs rode their first roller coasters, and international staff tasted several types of candy they had never tried before. Everyone was very satisfied with the treats for the day.
We are all exhausted from all the fun over the past 36 hours. Everyone is eager to go to bed early tonight, and wake up late Thursday.
Sheesh … overnights have changed alot since we were in the program. But we still remember fondly Caledonia State Park…
So long until next blog,
Alicia and Marty
[bq_color]
Today's Airy & Louise Birthdays

Madyson
Jocelyn
Stephanie
Mel – staff
Jonathan – staff
Today's Louise Menu
Breakfast, Lunch, Dinner
Yogurt | Berries | Granola | Scrambled Eggs | Honeydew, Pulled Chicken | French Fries | Salad Bar | Pasta Bar, Pasta Night | Marinara Sauce | Alfred Sauce | Garlic Bread | Prima Vera Veggies | Mozzarella Sticks | Salad Bar | Pasta Bar| Pasta Bar
[/table]
Today's Airy Menu
Breakfast, Lunch, Dinner
Yogurt | Berries | Granola | Scrambled Eggs | Cereal , Grilled Cheese | Tomato Soup | Goldfish Crackers | Zucchini Fries| Salad Bar | Pasta Bar | Lemon Ice , Shakshuka | Rice | Waffles and berries and whipped cream | Scrambled Eggs | Pasta Bar
Today's Airy & Louise Weather

High: 78°F | Low: 68°F – Overcast and warm, then some rain, and then a dry night.