Airy Blog
Director's Blog – July 4, 2015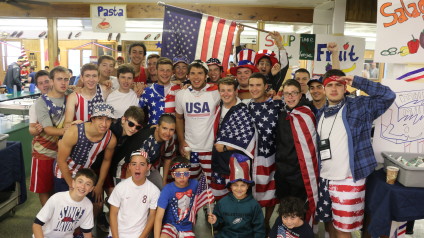 Happy Birthday America! The Fourth of July at Camp Airy is always a fun and special day. Some parts of the day are steeped in traditions, and others are new and creative twists that come along. For the umpteenth time, the Airy CITs gave our wake-up bell the day off and woke up the entire camp with cheers, whistles and chants of "USA." Campers and staff arrived in the dining hall to see a plethora red, white and blue covering walls and posts. We sang the "Star Spangled Banner" – followed by Hamotzi, of course. While we ate, a toe-tapping Independence Day playlist provided musical ambience. "Sweet Caroline" and "Shut Up and Dance With Me" seemed to be crowd favorites.
After an afternoon of swimming and field games, we cleaned up and headed over to Camp Louise for "AiryLouise-Stock." Live bands, food, crafts and hanging out were on the day's docket. On the stage in the gym were a collection of talented musicians: Naomi Less and Glenn Grossman; Wally and Channa Schachet-Briskin; Airy's Staff Band; Shy Ashkenazi; and others.
Our boys returned home to Thurmont to wrap up the holiday with Havdalah and a sweet treat of Rocket Pops. Bed times followed soon after all around camp – because in the morning, Independence Day takes a back seat to Airy Session 2S Opening Day. We will welcome 76 additional campers and get Week Three of the summer up and running.
[bq_color]
Today's Birthdays

Shy Ashekenazi – staff
[/bq_color]
Today's Menu
[table "" not found /]
Today's Weather

High: 79°F | Low: 64°F
Rainy and overcast for much of the day, but things dried up in time for a lovely event at Camp Louise.
Marty Rochlin
Director