Airy Blog
Director's Blog – July 4, 2017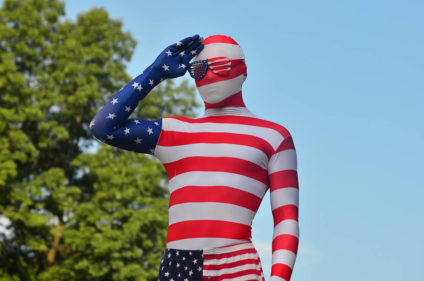 "Sweet Land of Liberty"
There are few days in the camp calendar as special as the 4th of July. Certainly, our Olympics are steeped in tradition. And the first and last days of a session are memorable. The last Shabbat of the summer, with havdalah led by our CITs, leaves a strong impression on all of us. But the 4th of July brings energy, enthusiasm and creativity that is unique.
The day is a mixture of old and new. For example, the CITs look forward to waking up all of camp. Some years the wake up was early, sometimes it was at the stroke of midnight. This year, the CITs took a new approach – they woke up camp at our normal 7:45 am, and then led our campwide lineup at 8:15 am. These future leaders oversaw flag, the Pledge, the Star Spangled Banner, and more. They schemed with Nicole for the release of a new Creative Arts t-shirt for the 4th, and led campers through "Alive Awake Alert American" calisthenics.
As camp entered the dining hall, we all saw the decorative handiwork of the CITs. Ribbons, streamers, flags and more adorned the whole room. Throughout the day at meals, staff contributed patriotic song playlists, USA chants, and dancing in the aisles. Although the late rain forced a postponement of our holiday-themed evening activity, nothing dampened the mood at our Make Your Own Sundaes gathering. Chocolate, strawberry and vanilla ice cream were adorned with toppings galore!
As we put our heads on our pillows tonight, we do so knowing that there are just two more full days in the summer's first two week session. Time certainly does fly.
Marty
Today's Birthdays
none
Today's Menu
[table "" not found /]
Today's Weather

High: 89°F | Low: 70°F
Hot, with an afternoon shower, and then a really nice evening