Airy Blog
Director's Blog – July 4, 2018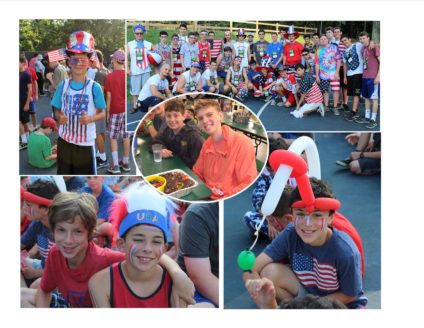 Independence Day
The 4th of July festivities at Airy actually began on July 3. A stealthy team of Airy staff set up red white and blue decorations all over camp, including an elaborate display in our dining hall. Fast forward to 7:30am, when the Airy CITs upheld the annual tradition of waking up the whole camp with music, cheers and whistles. It was the beginning of a day filled with fun and surprises.
Morning line-up, led by the trainee division unit leaders, was hi-lighted by a whole-camp singing of the Star Spangled Banner. Our all-American breakfast pancakes were delicious. The yogurt-fruit-granola station was glamorous. Following our three morning periods, we gathered again as a whole camp on the Field of Dreams for a demonstration performance of "Lip Sync Battle." Two CIT duos competed with "Call Me Maybe" and "Shake It Off." After an audience applause poll resulted in a tie, we played one more song. It was the Olympic anthem, so it could only be one thing: an announcement of Airy's July 2018 Olympic Generals.
This session's Olympics are sure to be "Ben-tastic" with Outdoors counselor Ben and Unit A counselor Ben going head to head in just 2 weeks in what will be the "Benn-iest" games to date. We threw the whole camp a curveball by making this year's announcement earlier than last year's. We also withheld assigning Green or White team colors – that will be another surprise next week. After all, why should expecting parents be the only ones who get to have fun with a color reveal?!? The faces of shock, excitement, and awe told the story – camp is in store for a super Olympics.
One downer to the day – rain arrived in the afternoon and caused us to postpone the Lip Sync Battle. But we rallied – instead, Movie Night it would be, with the hope that Lip Sync Battle could make its debut sometime this coming weekend.
Marty
Today's Birthdays
Shy – staff
Today's Menu
[table "" not found /]
Today's Airy Weather

High: 91°F | Low: 73°F
Warm in the morning, then stormy in the afternoon.