Airy Blog
Director's Blog – July 5, 2015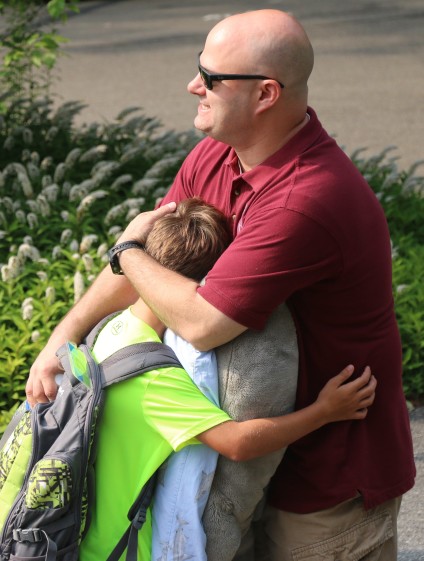 If what they say is true, and a picture speaks a thousand words, then this one is an overachiever, because I could easily double or triple that number for this image. In the interest of time and space, I'll try to be succinct.
The boy (along with his shark being smushed in the hug) is Cooper. He's a 2nd year camper, and our families are as close as close can be. His father Ross and I grew up next door to each other, attended camp together, stood in each other's weddings … you get the idea. So when Cooper arrives at Airy for opening day, it's not just a "welcome home" for him, but for Ross too. Cooper walks the same hill, sits in the same dining hall and splashes in the same pool (albeit with a few upgrades since the early 1990's) as his dad.
My hope is that there are many, many more Cooper-Ross connections happening on every opening day at Airy. I've already discovered several pairs like that for Summer 2015. Sean – the first time camper – and his dad Marc. Gabe – a soon-to-arrive Rookie camper – and his dad Brad. Another Rookie on the way – Max and his dad Mark.
Back to Cooper and Ross for a moment, as I think the depth and number of connections with Airy is truly amazing. When I joined Airy staff in 1992, I was in Bunk 19 … next-door to Ross who was a counselor in 18. Three summers later, Ross' brother Neal became a first-time counselor – working in my Unit D in Bunk 15. When Neal was a CIT in 1994, his bunkmates included two boys named Adam. One of the "Adams" is now our Senior Camp Division Head, and his two sons Alex and Benny are future Airy campers. The other "Adam" will be on our staff during Week 4 as a nurse in the health center. The Unit Leader in 1994 was Matt. Matt has two sons at Airy – Gibson and Sullivan – and a daughter Eliza who will be a future Louise camper, and his wife Lauren will be on Airy staff later this summer.
(If I had more time and space to write, I'd start connecting Lauren and Camp Louise …)
When we say to a family "Welcome Home," it really does mean something. On Opening Days – and really almost every day – I am reminded that Airy is family.
[bq_color]
Today's Birthdays

Corey – staff
[/bq_color]
Today's Menu
[table "" not found /]
Today's Weather

High: 84°F | Low: 63F
Although a tad on the muggy side, a good weather day for moving into and and starting Week 3.
Marty Rochlin
Director