Airy Blog
Director's Blog – July 5, 2016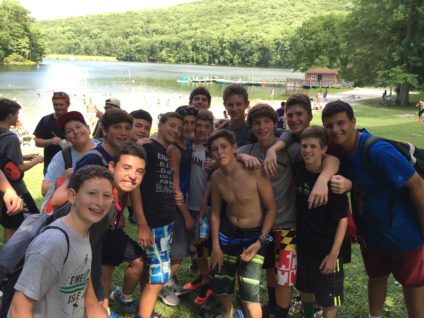 Our Unit F boys spent the day at "the lake and the falls" today, aka Cunningham Falls State Park. This trip has been an Airy favorite for decades, and in recent summers has become a signature trip for Unit F campers at both Airy and Louise. This year, several campers from Camp Louise joined the Airy boys who hiked to the park. A day at the lake under Tuesday's sunny skies featured hanging on the beach, frisbee, football, walks to the Falls, lunch and snacks, and relaxation. When our guys retuned to camp via bus, the reviews were thumbs up all around – another successful lake/falls trip.
Camp has always fostered bunk unity – making a connection with 12 or so bunkmates., living and playing together, becoming pen pals (then) or social media followers (now), and in many cases down the road, college roommates and wedding groomsmen. Building on that, camp is very purposeful in creating the same sense of unity at the unit level. All of the campers in a certain grade level matriculate through camp together, regardless of the assigned bunk in which they sleep. Campers in a unit participate in clinics together, attend electives together, and achieve milestones together – junior camp "graduation" after Unit C, senior camp "graduation" after Unit F, and joining staff after CIT summer.
The Unit C signature trip has become a visit to the Frederick Keys, a minor league baseball affiliate for the Baltimore Orioles. This summer their game trips feature "fireworks night" and "splash day." For other units, the signature experiences occur in ways other than trips – being old enough to ride go-karts or a specific zip line; leading a particular aspect of Shabbat services, moving on from instructional swim; eligibility for water and other out-of-camp trips.
Every summer, it is exciting to see both old traditions continue, and new ones start to take root. The common link is enhancing a camper's experience in both bunk and unit while at Airy.
Marty
Today's Birthdays
Corey – staff
Today's Menu
[table "" not found /]
Today's Weather

High: 90°F | Low: 65°F
Finally … a dry, sunny day!