Louise Blog
Director's Blog – July 5, 2016
It's All About Teamwork!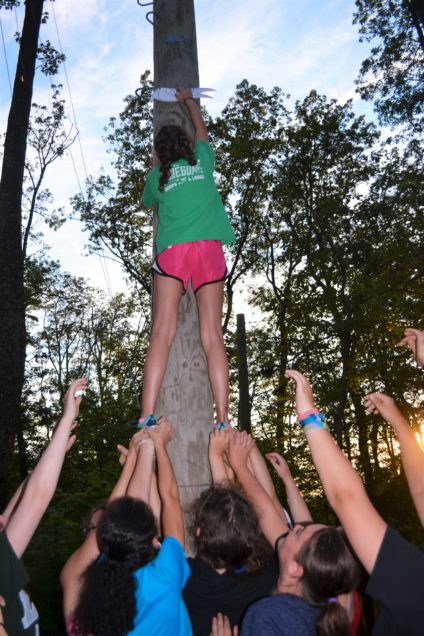 Tonight's evening activity was our very popular Outdoor Louise (ODL) Night. The theme was Jurassic Camp and it was all about teamwork. At the various stations set up all around camp, the girls had goals that could only be accomplished as a group working together. This bunk (see picture) had to get the 'dinosaur tail' as far as they could up the bear tree (an element on our ropes course). At another station, the campers had to search through mud to find letters and together spell out a word. Don't worry – they all got showers before bedtime!
Tonight's wonderfully fun activity was only one of the endless moments when Louise campers and staff work together to get things done. On our sports fields and courts, our campers learn classic teamwork lessons. Every day they clean their bunks and if one camper didn't do her job well, they know that the whole bunk's score would suffer. For last night's United Bunks of Camp Louise activity, each bunk created a made-up national identity, complete with an anthem, flag, declaration, and national costume.
Teamwork is a common theme here at Camp Louise. We take part in it each and every day – sometimes without even realizing it. Back in the "real world" outside of camp, it is sometimes easy to lose sight of teamwork. Take a minute to think about your professional and personal life – what teams are you are part of? What teams make what you do possible?
We could all use a team…..and perhaps some cheerleaders to go along with our team too!
Alicia
[bq_color]
Today's Birthdays

Michelle – Staff
[/bq_color]
Today's Menu
[table "" not found /]
Today's Weather
High: 84°F | Low: 68°F – The weather forecast said rain, but not a drop fell today.  A gorgeous, sunny day here at Camp Louise!