Louise Blog
Director's Blog – July 7, 2019
GUESS WHAT HAPPENED TONIGHT….
We gathered tonight in our amazing theater Jill's Place for our Staff Talent Show. There were cheers and laughter and huge smiles as our staff sang, danced, played instruments like trash can lids, brooms and crates, rapped an original song, and told jokes.
Just when we thought it was over, the final act got on stage – a counselor teaching Krav Maga, but little did everyone know that this counselor would help break COLOR GAMES 2019!
Lots of tutus, whistles, high socks and spirit!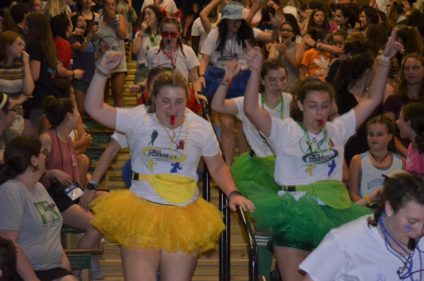 The Kim Possible theme song started playing and the captains, co-captains, and lieutenants ran out to introduce themselves. The stage was set – literally, and the goal is to find Kim Possible!!
We can't wait to see what is in store for tomorrow, but for now – we have to get to bed…teams earn points for quiet on this first night of Color Games!
Shhhhh….
Alicia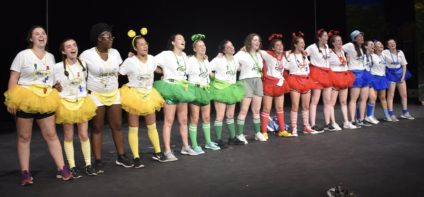 Today's Birthdays

AY Lederman – Health Center Office Assistant
UNIT SPOTLIGHT – CITs

On Tuesday morning, the CITs will head out on their first overnight trip of the summer. We will be traveling to Seneca Rocks to complete a via feratta-style climb. The via feratta is a style of climbing where your harness follows a cable up and around a mountain. With a 200 foot-long suspension bridge and a 1,085 foot elevation gain during this four-ish hour climb, this trip challenges the CITs to encourage each other, overcome their fears, and trust themselves. These moments will provide an opportunity to teach each CIT to lean on one another, work as a team, and become a cohesive unit. I cannot think of a better adventure to symbolize the growth that many of the CITs will experience during their summer.
Koozmin – CIT Unit Leader
Today's Menu
Breakfast, Lunch, Dinner
French Toast Casserole | Scrambled Eggs | Berries, Chicken Tenders | Curly Fries | Corn | Salad Bar | Pasta Bar, Lasagna | Mozzarella Sticks | Zucchini and Squash | Breadsticks | Salad Bar | Pasta Bar
Today's Weather

High: 82°F | Low: 66°F
A hot, summer day with another evening rain!  This is starting to sound repetitive…