Airy Blog
Director's Blog – July 7, 2019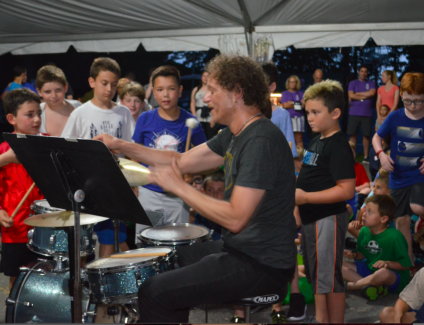 "The Rhythm is Gonna Get You …"
… TONIGHT!
Welcome to Session 2S! Boy were we excited to welcome new campers to Airy today. Shiny happy people! Pizza bagels and curly fries! Reconnecting with old friends and getting to know new ones.
"Look at that big chair!"
"Whoa, that tent over the skate park is cool … and HUGE."
"Are we doing drums with Glen?"
Affirmative! We are happy to host Glenn Grossman again at Camp Airy for a little thing we like to call "Airy Percussion Project." Glenn is a professional drummer and producer based out of New York City, and he is a great friend of camp. Long story short – Glenn accompanies his wife Naomi Less to Camp Louise every summer for a program called "Jewish Chicks Rock." I inquired a few summers ago about a program for Airy, and the Percussion Project was born. In the week that Glenn spends at Airy, we offer drumming lessons to all levels of drummers, as well as group drumming opportunities, expertise in our recording studio, and some cool beats for Shabbat.
Tonight was a bit lucky, as the timing for this summer's drum show featuring Glenn and fellow professionals for New York fell on our Opening Night for Session 2S. We didn't let the rain deter us, and we hosted the show in one of our new uphill tented spaces. Divisions gathered in rotation for the show and an invitation to sign up for more drum time during the week. Pictured in the blog is a part of the show with Junior Camp where Glenn invited up campers to jump in and play.
We began the wrap up of the show with a rousing "We Come from the Fire" … Glenn and the drum guys, and Dan and Ben from Airy Music, engaged the whole tent with lyrics and hand motions. From there we moved into our Goodnight Song, and then we sent the campers back to their bunks for the first sleep of the new session.
Not a bad first day.
So long until the next blog,
Marty
Today's Birthdays

Landon
    UNIT SPOTLIGHT – Unit C   

Unit C has been a hoot these past two weeks! Our campers have gotten to drive go karts, travel down the MegaZip, and have even gotten to do both indoor and outdoor parkour. Saying goodbye to our first group of two-week campers was so hard, but we were excited to welcome even more campers for the remainder of the session! The activities we have planned for the next week are surely going to make the other units in camp jealous. Our campers will get to go ice skating, see a spectacular magic show at Camp Louise, and go to a Frederick Keys baseball game. I can't wait for the rest of the session, and especially to show our campers an amazing Camp Airy experience!
Sam, Unit C Unit Leader
Today's Menu
Breakfast , Lunch , Dinner
Scrambled Eggs | French Toast Casserole | Cereal | Fruit | Yogurt , Pizza Bagels | Curly Fries | Broccoli | Salad Bar | Pasta Bar | David's Cookies , Sloppy Joes | Mixed Veggies | French Fries | Salad Bar | Pasta Bar
Today's Weather

High: 85°F | Low: 69°F
Partly cloudy for most of the day, with some evening showers.