Louise Blog
Director's Blog – July 8, 2015
After having watched a great yoga class today, I am sitting here at my laptop thinking about my own posture….not so good, I have to tell you.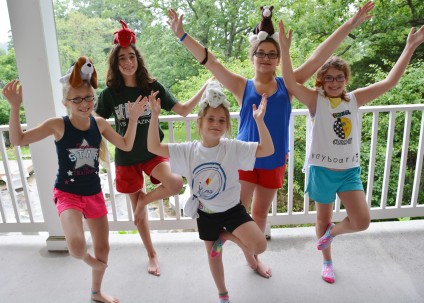 Listening to our yoga instructor talk about the effects of the high usage of electronics on the body makes me want to put down my laptop and phone and take a walk around our beautiful mountain.
Always looking down at a screen, many kids and adults today suffer from back and neck pain due to improper posture. In addition with so much stimulation (with screens and extremely busy schedules), we have a hard time truly relaxing.
Watching this yoga class today, I was so impressed with how the campers learned stretching, strengthening, and balance. They talked about how to relax and how not to worry and even how to fall asleep at night. The techniques they learned can help them quiet their brain and distract themselves from always thinking.
In this stuffed animal yoga class, the campers chose a stuffed animal and they created their own poses based on their animal – the owl pose, the dragon pose, the dog pose, the snow tiger pose, and the giraffe pose just to name a few. The campers were then taught various yoga poses. They used the stuffed animals to help them keep their balance as they placed the animal on their stomachs and tried to keep them from falling off.
In looking at the schedule coming up, I am going to have to carve out some time for one of the many yoga classes offered this week – yoga massage, aqua yoga, partner yoga and meditation.
And now for my walk around the mountain….bye, bye computer (for now)….
Alicia
[bq_color]
Today's Birthdays

Charlotte – Bunk 18

Mya – Bunk 27
[/bq_color]
Today's Menu
[table "" not found /]
Today's Weather

High: 75°F | Low: 66°F – We had a little bit of drizzling this morning, but a very sunny afternoon.