Airy Blog
Director's Blog – July 8, 2019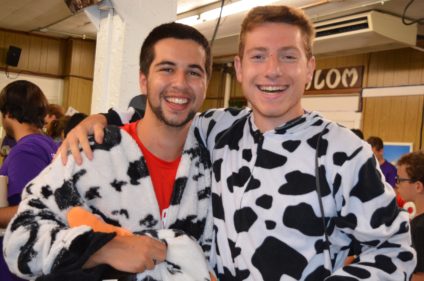 " … And on his farm he had a COW …"
E-I-E-I-O! In a presentation that was UDDERLY adorable, and MOO-VING to many, the Generals for the July 2019 Camp Airy Olympics were revealed today. Although team colors and themes will become known later in the week, the Generals will be counselors Max Brooks and Michael Rosen. The unsuspecting counselors unknowingly were chosen to wear the cow costumes during lunch today to add some fun to our Chik-Fil-Airy lunch. We were playing chicken-themed songs, when I interrupted the music and asked our programming coordinator Alexis to pick a new song. The Olympic theme began to play, and the crowd was overcome with excitement. We called the cows forward, and announced the honors for Max and Michael.
It really is so much fun to be part of the Airy Olympic Committee and work on things like Generals, big reveals, and the three-day Airy Olympics. But it's challenging work too. There are always so many deserving candidates to be General. We want to find a pair of people that will work hard in collaboration and competition. We want to find a pair of people that will include as many campers and staff as possible. We want to have a great show and a great wrap-up to the camp session.
Some of my favorite camp memories are tied to Olympic General announcements and surprises. We had a traveling line-up once to wake-up a general who was sleeping-in; we tried a 7-11 Slurpee surprise on July 11 once; we had a dining hall dance off. Last century we placed envelopes in the dining hall on the tables of the generals. We have tried fake-out announcements; we have tried to vary the session in which we announce the generals. We have told them in advance, and like today we gave them not a heads up but rather a cow costume.
We are looking forward to the build up to Olympics over the next several days, and an exciting end to our first month.
Oh, and I'll have my sandwich without the pickles.
So long until the next blog,
Marty
Today's Birthdays

Happy Unbirthday to all!
    UNIT SPOTLIGHT – Unit D   

Another day has come to an end.
Our summer home really has got into full swing, and this Sunday we welcomed 16 new campers to our Unit of destinations. Campers have thoroughly enjoyed reuniting with old bunk mates from previous summers and meeting new friends, while showing them how much of an incredible place camp is to be. With a wide array of unit activities planned for the week ahead unit D are sure in for a full and awesome packed week.
Dom, Unit D Unit Leader
Today's Menu
Breakfast , Lunch , Dinner
Breakfast Burrito with Scrambled Eggs | Cereal | Fruit | Yogurt , Chik-Fil-Airy | Waffle Fries | Green Beans | Salad Bar | Pasta Bar | Italian Ices , Spaghetti and Meatballs | Mixed Veggies | Garlic Bread | Salad Bar | Pasta Bar

Today's Weather

High: 77°F | Low: 63°F
Rainy all day, and then clear and pleasant in the late afternoon and at night.