Louise Blog
Director's Blog – July 9, 2017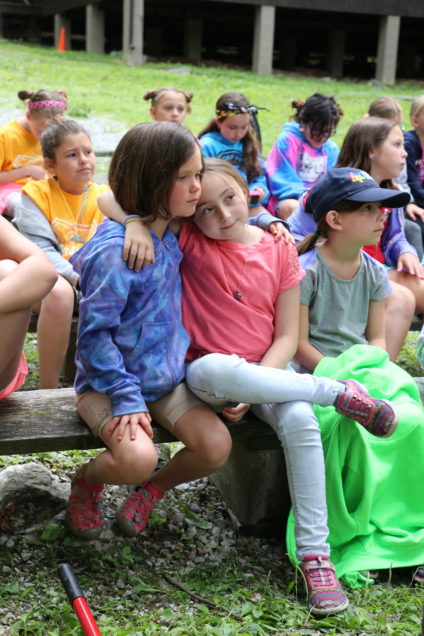 THE POWER OF FRIENDSHIP
As I was skimming through the pictures that our amazing photographers take each day, I came across this one and it really spoke to me. The friendship between these two campers is so evident in this beautiful photograph – the comfort they feel being around each other, the joy of sitting around a campfire, the power of friendship.
I spent some time with these two campers to learn a little bit more about them. For one camper, it was her second summer with us and for the other, her first. They didn't know each other before, but they quickly found things that they had in common and they bonded instantly.
The girls went on to tell me about something special they created called Miracle Day.   I was so impressed with their friendship and Miracle Day that I asked them if they would tell the whole camp about it. And these two brave little girls in Unit A stood up in front of the entire Dining Hall and talked about Miracle Day. This is a special time that they created for themselves. Every morning, they do something kind for each other. If one is cold, the other may let her borrow a sweatshirt. If one made a project in arts and crafts, she may decide to give it to the other. If one needs a hug, then that is the gift given that day.
The girls just love spending time together and doing nice things for each other. At first, they were excited to be the recipient of the sweatshirt, project or hug. But they quickly realized that they actually loved the giving better than the receiving. It made them feel so very special!
As the girls were packing up on Friday and heading home, they told me that they will definitely stay in touch with each other during the year by writing each other letters. They can't wait to be back at camp next year in the same bunk, but they also quickly added that they hope to be in a bunk with new people too so they can make more and more friends every year! The girls even started talking about when they are CITs….in 2026!
Girls, it will be here before you know it!
Alicia
[bq_color]
Today's Birthdays

Sam D. – Staff
Melissa D. – Staff
[/bq_color]
Today's Menu
[table "" not found /]
Today's Weather

High: 80°F | Low: 62°F – A simply gorgeous day!