Airy Blog, Louise Blog
Directors' Blog – July 9, 2019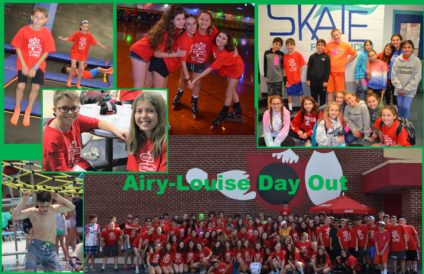 "On the Road Again …"
It's true, we love our camps so much, but it can be fun to have a change of pace and head out on the road for Air-Lou trips. Today, EVERYONE boarded bus for some great destinations
The trainees had an early morning – leaving for their overnights, a definite highlight of their summer!
The STs set off for Cedar Point. The CAs embarked on a Biking – Canoeing – Hiking – Camping expedition. The CITs ventured off to Via Ferrata.
For the rest of us, after a morning of scheduled activities, the buses pulled up to camp, units loaded, and away we went …
Unit A – Sky Zone
Unit B – Bowling
Unit C – Ice Skating
Unit D – Water Park
Unit E – Roller Skating
Unit F – Bowling
Units A – F came back to Camp Louise for dinner (a yummy BBQ, special thanks to the Camp Louise dining services team), some more socializing and a magical evening! Campers and staff were awed and amazed by the Amazing Eric, our visiting guest magician. The "ooohs" and "ahhs" from the audience in Jill's Place were abundant. Ask your camper about a 10-day vacation in China with Robert Downey, Jr., or the orange paint ball pellet with a smiley face.
Following the show, Camp Airy returned to its side of the mountain. And then bedtime for all of us.
Alicia and Marty
Today's Airy & Louise Birthdays

Campbell – Airy Unit E Camper
Sam – Louise Cookery Department Head
Today's Airy & Louise Menu
Breakfast, Lunch, Dinner
Waffles | Scrambled Eggs | Strawberry Topping | Orange Wedges, Grilled Cheese | Tomato Soup | Goldfish | Tater Tots | Broccoli | Salad Bar | Pasta Bar, Hamburgers | Hot Dogs | Corn on the Cob | Potato Salad | Cucumber Salad | Salad Bar | Pasta Bar
Today's Weather

High: 82°F | Low: 66°F
A gorgeous day for activities in camp and out!