Louise Blog
Director's Blog – June 24, 2015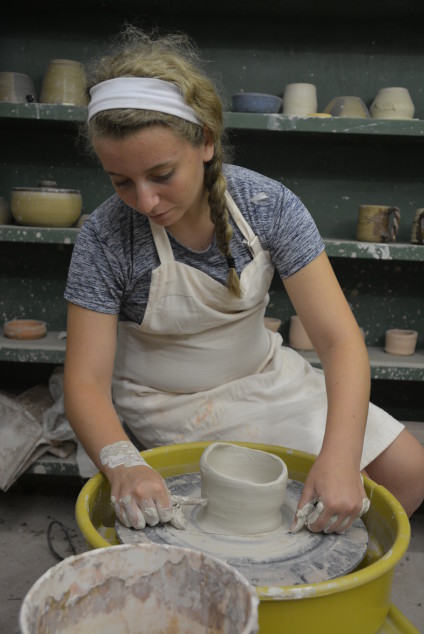 In our Shabbat morning prayer book, one of the lines reads:
"We live together, eat and play together, create and fashion things of beauty together, sing and dance together."
If you went to Camp Louise, you probably can recite the rest of page on your own….
Today as I was walking around camp, I was thinking about how true this statement is. At camp, we get to truly create. Look at this picture of one of our very own camper artists at the pottery wheel. She is focused. There seems to be a sense of calm around her as she designs her project. What started as a literal blank slate – a slab of clay…..can be fashioned into anything she desires. And if she changes her mind, she can create something else. Whatever her desire….in that moment….she can create anything she likes.
All around camp, staff and campers are living the line of our Shabbat services – creating and fashioning things of beauty. Another reason why camp is such a magical place for so many of us! When else do we get to truly create each and every day?
When you have a free moment, create something beautiful. We do it every day here in Cascade, Maryland!
Alicia
Director, Camp Louise
[bq_color]
Today's Birthdays

Hannah T. – Bunk 22
[/bq_color]
Today's Menu
[table "" not found /]
Today's Weather

High: 79°F | Low: 61°F
Yesterday's brief rain really cooled things down today.  It was sunny, a little breezy and gorgeous!