Airy Blog
Director's Blog – June 25, 2015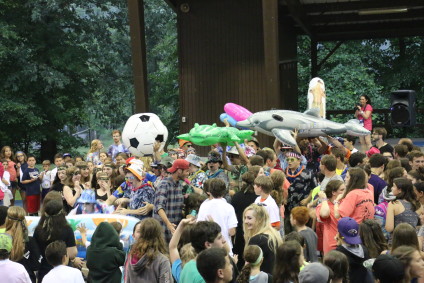 What do you get when you mix 31 bunks of boys from Camp Airy, 36 bunks of girls from Camp Louise, and DJ Doug? That's easy … you get the first, awesome, bass thumping, hand waving, foot stomping, line dancing Airy-Louise dance of the summer!
Camp dances are a site to behold. The dance floor becomes a showcase for Bar Mitzvah games, line dances, dance crazes made famous by social media, and many conga lines. Campers and staff alike dance on the gym floor (tonight at Camp Louise), letting out a shriek each time a favorite song begins to blare.
Some of the older campers come to the dance dressed in a uniform or costume. Tonight, the Airy CAs arrived in their red, lifeguard tank tops, while the CITs wore Hawaiian shirts. Both groups arrived while blowing whistles and carrying inflatable pools, balls and rafts. The crowd roared with approval.
Tonight's dance also featured a photo booth, a balloon  man, cotton candy, pop corn, and ice cream. What more could a camper want?
By the evening's end, despite a rain deluge that gave a Noah's Ark feel to the festivities, our campers truly had a blast. These kinds of two-camp, community celebrations are a special part of what we do at Airy and Louise.
[bq_color]
Today's Birthdays

Josh S.

[/bq_color]
Today's Menu
[table "" not found /]
Today's Weather
High: 80°F | Low: 66°F
Overcast for most of the day with rain in the evening.
Marty Rochlin
Director, Camp Airy