Louise Blog
Director's Blog – June 25, 2017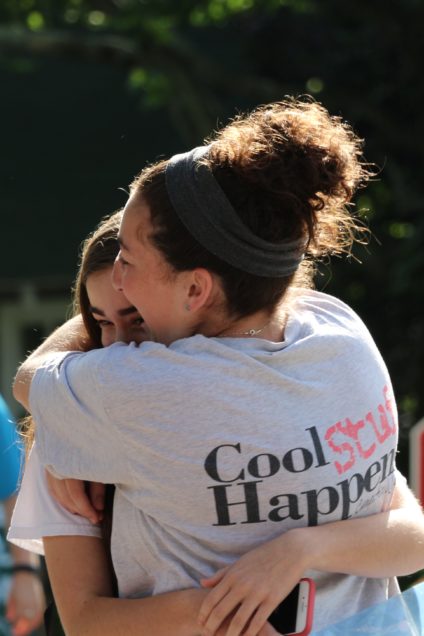 Opening Day 2017
I get the amazing privilege of greeting our families as they come into camp on Opening Day. I get to watch the campers as they walk up the hill – some of them running to greet old friends, some a little more hesitant with first day jitters. I watch the parents and grandparents as they leave – some a little (or a lot) teary on their way out and some literally skipping down the hill. Every one of them has a story.
The theme we have been working with for the summer is What's Your Story? Every single one of us has a story. What story brought you to camp this summer – whether it is your first summer or your 5th or your 15th? What do you want your story to be when you leave camp in 2 weeks or 4 weeks or 7 weeks? How do you want to grow? What do you want to learn? Who do you want to be?
We have been talking to our staff about their stories. We have shared stories as we have gotten to know each other this past week (or two) of Orientation. But today things changed as hundreds of campers walked through our gates. We want to learn our campers' stories. Where do they come from? What are they really good at? What are they most proud of? What are they nervous about? What do they want to accomplish while they are at camp?
Tonight during Welcome Show, we read the story of Camp Louise, but the last page was empty….that is our story to write. What do we want our story to be when we leave camp this summer? How can we impact other people's stories?
Think about your own story. You know the beginning but not the middle or the end – well, that's because it has not been written yet no matter how old you are. You are the creator of your own story. What does it look like? How will your story impact others?
Here's to all of our stories! Let's make them truly awesome!!
Alicia
[bq_color]
Today's Birthdays

Staff – Faith M.
[/bq_color]
Today's Menu
[table "" not found /]
Today's Weather

High: 77°F | Low: 56°F

We could not have ordered more perfect weather for Opening Day!