Louise Blog
Director's Blog – June 25, 2018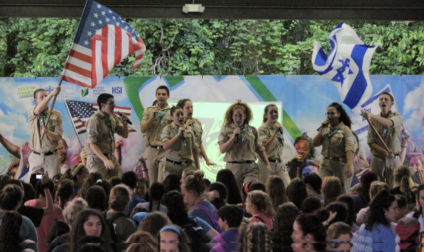 TZOFIM FRIENDSHIP CARAVAN
Today, we welcomed ten caravan members and their two leaders to Camp Louise. As soon as they were introduced, the crowd went wild!
I had the chance to speak to Chen, one of the leaders of the Tzofim Friendship Caravan. She proudly explained the program to me.
These teenagers from Israel travel around North America to help build a strong connection between Jewish American society and Israel and bring the two closer. Through their show, they want to communicate with our camp community through song and dance. They want to show happiness and hope.
The Israeli Scouts is the biggest youth movement in Israel. There are troops in many, many cities all throughout Israel. The troops meet twice a week for educational activities and social opportunities. They learn how to get along in a group…..Kinda sounds like camp, huh?
The caravan members are the leaders, and they help guide these 4th – 9th graders in their youth groups.
In order to become a caravan member, they must be elected. It is a big honor. Once chosen, they practice every weekend to learn the songs and dances that they will perform as they are traveling. It is a lot of work, but well worth it!
Currently, there are three groups of friendship caravans – one in the northeast (that's the one who came to us!), one in the south (traveling from Florida to Texas) and one that goes coast to coast (from LA to NYC).
Chen said, "This is the best job ever!" She explained that being at camp is a lot of fun. It is so nice because the campers really want to be here, and that shows!
The show was full of energy and excitement. They had the crowd on their feet dancing and singing along. Our very own Israeli staff ended the evening with our Goodnight Song.
What a great way to wrap up the first full day of camp!
Lilah Tov, Camp Louise!
Alicia
Director
[bq_color]
Today's Birthdays

Faith – Staff
[/bq_color]
Today's Menu
[table "" not found /]
Today's Weather

High: 84°F | Low: 58°F
A beautiful, sunny day here at Camp Louise!