Airy Blog
Director's Blog – June 26, 2015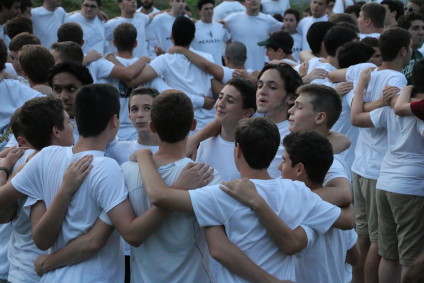 The first Shabbat of the Camp Airy 2015 season brought about a chance for our camp family to collectively reflect on and give thanks for a wonderful opening week. So many members of our community take part in weekly services and activities. Sophie and Kevin and Shy lead the services and provide the musical accompaniment. Alana and Pam lit and blessed the candles, and Rabbi Hal delivered the blessing over the children. The pre-dinner service wrapped up with a rousing rendition of "Bim Bam."
After dinner, we recited the "Birkat Hamazon" with hand gestures and ruach facilitated by J-Rev and Shy. Sounds of claps and booms filled the dining hall. The same spirit continued when we gathered on the Village Row Basketball Court for a song session. Kevin and Shy wasted no time in getting the guys up on their feet. Jewish, folk and pop songs played as campers and staff sang and danced. The session ended with the singing of our "Goodnight Song."
I am so proud of our young men and the camp spirit they exude. At the dance yesterday and with Shabbat tonight, their energy and enthusiasm seem to be in endless supply. The genuine way that they care for one another and  for camp warms the heart.
Today's Birthdays

Ethan Y.

Jared C.
Today's Menu
[table "" not found /]
Today's Weather

High: 78°F | Low: 64°F
A perfect weather day after last night's rain.
Marty Rochlin
Director