Airy Blog
Director's Blog – June 26, 2016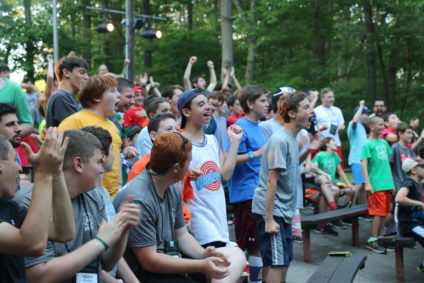 If the boys attending Camp Airy are THIS excited on Day 1, then we are in for a whole bunch of fun in Summer 2016! The guys are excited for good reason – or rather, I should say LOTS of reasons. In this picture, you can see the guys hooting and hollering for their friends and counselors on stage at the Cohen Theater. But a few hours earlier in our White House dining hall, the guys were singing and clapping and stomping as we celebrated the first pizza bagel meal of the summer with "Pizza Man." Throughout the morning arrival, so many campers (and parents) asked me about the new zip line and go-kart track. I can't help but smile when someone says to me "I saw that video of you on MegaZip."
I am convinced that even with all of the exciting and fun things that we have for campers to do, it's the opportunity to make new friendships, and to rekindle older ones, that really makes Airy special. Our staff completed their training week on Saturday, and a topic of great emphasis was "hospitality." We discussed what it feels like to be new, and also new in a foreign country. The lessons learned will help us all open our summer home to new swim staff from South Africa, or new campers from Ashkelon in Israel.
Through this blog, I hope to welcome you into our summer home. Other email and social media efforts will give you specifics about your camper. In this space, I will try tell the stories about your sons and their time at Airy – our laughs, our celebrations, our Jewish community, and our relationships.
Thank you for sharing your sons with us – we're going to have a blast!
Marty
Director
Today's Birthdays

Ethan Y.
Jared C.
Today's Menu
[table "" not found /]
Today's Weather

High: 85°F | Low: 73°F