Airy Blog
Director's Blog – June 26, 2018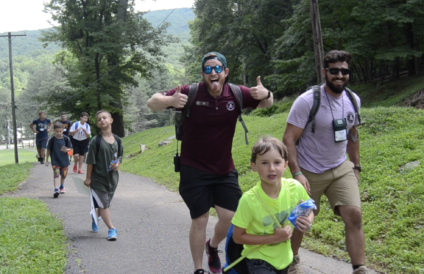 "One HILL of a Summer!"
The Airy Hill is legendary. It is a thread that links more than nine decades of Airy campers and staff. Most campers walk up and down the hill at least two times per day. As the almost-famous camp band "The Dustballs" once sang about the hill, "Up it to eat, down it to play!" Its size leads to questions such as "Are you going to finally build a ski lift?" and "Can I ride a skateboard down it?" To be clear, the answers are "Maybe" and "No."
The hill is where so many camp memories are made. Somehow, the long walk up the hill from Nature or Parkour doesn't seem so long when chatting and laughing with friends. Campers may have walked down the hill feeling trepidation going to their first campout with outdoors. But on the walk up the next morning, a bunk full of confident campers retell the cooking and camping tales. Clutch baskets and game-winning goals are celebrated on a walk uphill. A trail of lost and found often decorates the hill, a sock here and a bathing suit there. Sometimes, campers and staff will catch a whiff of something delicious going on in Culinary and call out "Can I have some?" I was lucky enough yesterday to walk by just as a fun-fetti cupcake was being offered.
When I was a camper, there was no "rest stop," nor were there three water fountains. At the "rest stop," you can see an arrangement of bricks that recognize people who spent time at camp as staff and/or campers. Recently, we began to add bricks to the collection in celebration of 25 years of service (or more) to camp. Campers especially are drawn to a brick that reads, "Step here for good luck."
For some people, the best part of the hill is simply finishing a walk up it. For others, it's shouting "Mr. Echo" from the Mr. Echo spot. There are great views from many spots on the hill. For the Olympics, we used to race soapbox cars down it, and run up it. I know that regardless of the direction, the Airy hill is, and will continue to be, the setting for so many camp stories.
Marty
Today's Birthdays
Jared
Rachael – staff
Today's Menu
[table "" not found /]
Today's Airy Weather

High: 81°F | Low: 62°F
The weather is great in 21788!