Louise Blog
Director's Blog – June 26, 2018
MERMAID OF THE DAY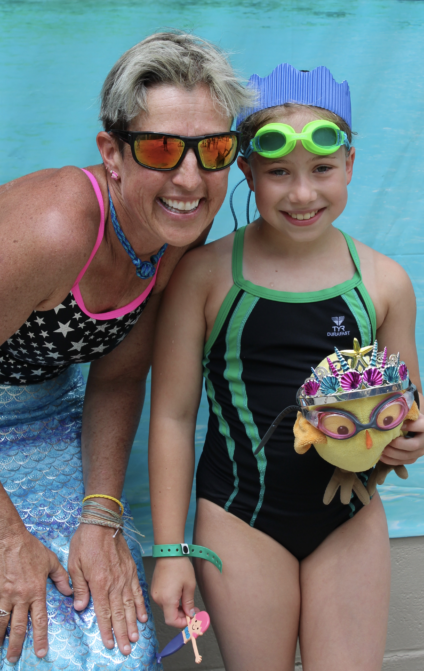 Today we crowned first time camper Emily in bunk 24 – Mermaid of the Day! After a photo op at the pool, I caught up with Emily about this big honor. Emily had never even seen Camp Louise until she arrived on Sunday. She heard about camp from a friend, and she decided to give it a try! And we couldn't be more excited that she did!
Today, Emily was awarded Mermaid of the Day for her hard work, positive attitude and skill building in kicking, breast stroke and treading water. Way to go, Emily!
Mermaid of the Day is a program that was started at Camp Louise at least five years ago by our very own Mermaid Captain Leslie. Leslie started camp in 1976 when she was just 9 years old, and we are so lucky that she has been at camp off and on ever since!
The Mermaid of the Day has evolved through the years. It is a way of celebrating the efforts campers are making in mermaid training – just like instructional swim, but way cooler and much more fun! Leslie wanted to recognize and reward campers for their work ethic, overall spirit, and skill improvement. Our swim instructors look for campers who demonstrate a great attitude, are helpful to others, participate enthusiastically, and put forth good effort. We have so many amazing campers, sometimes it is a very tough choice! Nominees are chosen from each swim group and one Mermaid of the Day is selected.
And then the most important part….the Mermaid of the Day is given the prized mermaid chicken to hold onto for 24 hours. This comes with a great deal of pride, responsibility, and just two simple rules:
You have to keep the chicken with you at all times.
And whatever you do – you cannot feed the chicken after midnight.
Have a fin-tastic night!
Alicia
[bq_color]
Today's Birthdays

Lucy – Bunk 18
[/bq_color]
Today's Menu
[table "" not found /]
Today's Weather

High: 82°F | Low: 67°F
Another great day – sunny with a breeze!