Airy Blog
Director's Blog – June 27, 2017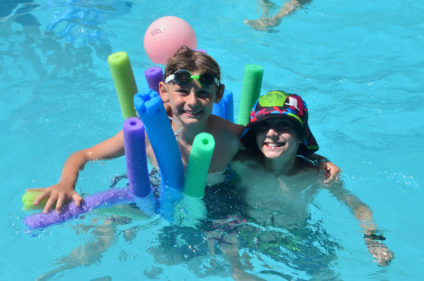 "Catch a wave and you're sitting on top of the world!"
If you've been lucky like me and had the chance to spend lots of summers around smart, caring and interesting people, you learn a thing or two. I don't recall the year, but I remember being taught the following – the Talmud says that one of the requirements for being a parent is teaching a child to swim. So in our role of summer care provider and "parents" to hundreds of boys, we try and do our part at the Camp Airy pool
Swim instruction at camp occurs three times each week for campers in Units A, B and C. For campers in senior and trainee camp, we have regularly extended the offer to continue instruction. Several of those campers who matriculate through our trainee program return as swim department staff members. Campers all take a deep water test on the first day of camp, and campers who might not pass on the first attempt are welcome to try again in the days that follow.
Free swim occurs every day for all campers at Airy. With the backdrop of a sunny sky and music in the air, campers have the options to play and/or simply relax. (The guys in today's picture are showing us the latter with creative use of pool noodles). We have basketball and volleyball in the shallow end, and the climbing wall and log roll in the deep end. Campers and counselors mingle, irrespective of bunk or unit. And if a camper isn't in the swimming mood that day, we have a deck hang-out area for reading or card playing.
The Airy pool is also the locale for our afternoon snack. Campers and staff stop by on their way to or from free swim. Fruit, sun chips, pop corners and more are part of the snack rotation. Then our reenergized campers head off to their next "find your inner awesome" activity.
We appreciate Aaron, Jimmie and the whole Airy swim staff for their work in teaching our campers, and for keeping all of us safe.
Marty
Today's Birthdays
Spencer A.
Vlad D.
Ezra G.
Ian G.
Today's Menu
[table "" not found /]
Today's Weather

High: 79°F | Low: 55°F
Another beautiful day in summer 2017!