Airy Blog
Director's Blog – June 28, 2017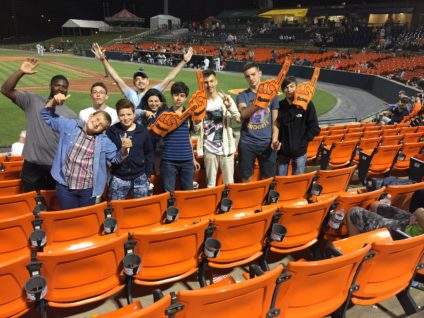 "It's a small world after all"
This year, Camps Airy & Louise received a grant from the Baltimore-Ashkelon Partnership and the Baltimore-Odessa Partnership to recruit and provide scholarships, as needed, to ten campers and one chaperone from Ashkelon, Israel and eight campers and two chaperones from Odessa, Ukraine. This is the first project funded by the Partnership Committees that connects youth from our three cities – Ashkelon, Baltimore, and Odessa. Given the success of Airy's hosting Ashkelon campers in 2016, we are so excited to have this group. In all, we have four campers from Odessa and three from Ashkelon.
Tonight, we took the Airy campers to see the Frederick Keys. The seven boys, plus their chaperones and a few Airy staff, loaded a van and made the trek to Nymeo Field at Harry Grove Stadium. Our international friends enjoyed the sights and sounds of the ballpark – and some snacks! Airy's Senior Camp Division head Adam sent us updates throughout the game:
Update 1: Kids are excited and I told them who to root for.
Update 2: Three out of four Odessa campers like hot dogs. One Israeli tried and liked it.
Update 3: Odessa chaperones love Bruster's Ice Cream on my recommendation. I may have to join that club.
Update 4: Dorian and Liav desperately want a foul ball. I am trying to temper their expectations.
Update 5: Two-run single for the Keys – Odessa kids and Mayan go wild with foam fingers. Keys up 3-1 in the bottom of the 3rd.
Update 6: Food update – Liav got a huge helmet full of popcorn that has free refills and he is sharing with everyone. Dorian got Bruster's. Odessa crew got soft serve. All are happy.
The Keys won, 10-4.
We appreciate the donation of the tickets by MMI in Frederick. They have taken care of Airy campers and their injuries for many summers. It is another example of Airy's connection around the world – locally in Frederick County, and with our campers from Ashkelon and Odessa, and the 15 other countries from where our campers and staff hail.
Today's Birthdays
Dima M.
Today's Menu
[table "" not found /]
Today's Weather

High: 80°F | Low: 95°F
I feel like a broken record – another beautiful day in summer 2017!