Airy Blog
Director's Blog – June 28, 2019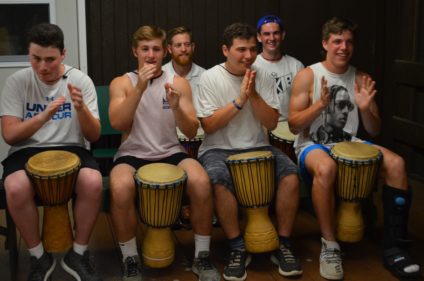 "Rhythm is Going to Get You"
Shabbat Shalom! No, we're not in South Beach despite our mention of Gloria Estefan and Miami Sound Machine. But there was a special rhythm in the air as we stated to celebrate our first Shabbat as a whole camp community. Following services and dinner – quick shout out to the dining staff and those delicious latkes – we gathered on the Village Row Basketball Court.
Song leaders Dan and Ido welcomed everyone to the court, leading us in a medley of new songs and old favorites – the set list included "Shigaon," "Take Me Home, Country Roads," "Salaam / Od Yavo Shalom Aleinu," and "Can't Stop Me Now." Interspersed, our assistant director Rachael led campers and staff though a five-song dance set. Guest leaders joined Rachael as the playlist moved along – our shlichim, Zac and Shai to name a few. With the song and dance tandem, the basketball court was rockin'!
But the evening was not over. To bring the song session to a close, bunk circles formed for the "Goodnight Song." Then, everyone headed off to Campteen and Friday Night at the Movies … except the CITs. Our CITs gathered with our visitor Adam Issadore and his program "Path to Rhythm." Pictured in this blog are some CITs and staff in an evening drumming circle. Their drumming echoed through the bunks of Lower Camp, and as I walked by their session for a peek, I saw big smiles between the flurry of flailing arms. A cool note to share – EVERY camper and staff played a drum at the same time in the circle.
We look forward to Saturday when Units from the rest of camp will have time with Adam and "Path to Rhythm."
So long until the next blog,
Marty
Today's Birthdays

Happy Unbirthday to All!
    UNIT SPOTLIGHT – Unit D    

As the week is drawing to a close I look back on the activities we have done as a Unit as well as together within bunks, and what an incredible week it has been for Unit D. As our theme for the summer is destinations a lot of our focus has been placed around activities that include countries of the world. The SS Pickle came out victorious down at the pool for our boat racing championship, of which each bunk needed to create a vessel fit to be tied to a counselors leg and swam across the pool. Judged on durability and imagination the vessels each made it from deep in the Atlantic sea to the shores of the British coast. As Unit D are the newest campers to join the senior division the campers are enjoying more flexibility in their schedules and freedom of their days. We will continue to enjoy destination unit themed activities and all that airy has to offer.
Dom, Unit D Unit Leader
Today's Menu
Breakfast , Lunch , Dinner
Omelettes – cheese and veggie | Tater Tots | Cereal | Fruit | Yogurt , Cheese Quesadillas | Beans and Rice | Roasted Veggies | Salad Bar | Pasta Bar , Matzoh Ball Soup | Brisket and Chicken | Potato Latkes | Carrots | Challah | Salad Bar | Pasta Bar | Fruit Cobbler

Today's Weather

High: 93°F | Low: 70°F
Sunny and warm all day