Airy Blog
Director's Blog – June 28, 2016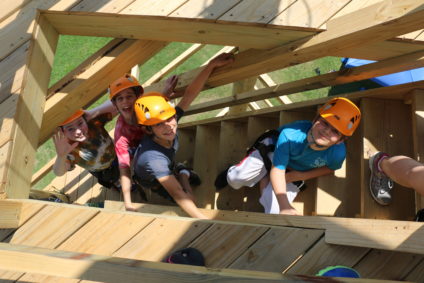 Airy campers have the opportunity this summer to experience "MegaZip." MegaZip is a dual zipline that covers 825 feet, and begins from a launch platform that is approximately 60 feet above the ground. What does all of that mean? It means that two campers can simultaneously zip across Airy fields and Go-Karts to a landing spot that is almost three football fields away!
Does it make you nervous? Maybe a little?
The Airy campers in this picture are all smiles as they climb the stairs to the top of MegaZip. With helmets and harnesses, they ascended to the top, received their instructions, moved into position, and ZIP!
It's fine to be a little nervous – I was when I first did the MegaZip. But I was also confident that I could do it, just like the young men in the picture. That confidence comes from knowing your bunkmates are with you every step of the way. That confidence comes from connecting with the staff leading the activity, and trusting that they are looking out for me.
There is no better place to grow up and learn about yourself than camp. There was once a camp slogan that read "Airy is Adventure." By providing our campers the chance to pursue adventure, we are helping them develop confidence to try new things. Campers will overcome new challenges at different paces. For some campers, climbing the MegaZip steps will be a milestone. For others, completing the zipline is the mark of success. The same hold true for the arts, athletics, swim and much more.
Our goal at Airy is to help our campers become a better version of themselves by the time they go home. Thanks to great staff and programming, we are able to achieve this goal.
Marty
Today's Birthdays
None
Today's Menu
[table "" not found /]
Today's Weather

High: 86°F | Low: 62°F

It was a wacky weather day – foggy, then sunny, then stormy, then sunny, then stormy, then sunny.