Airy Blog
Director's Blog – June 29, 2019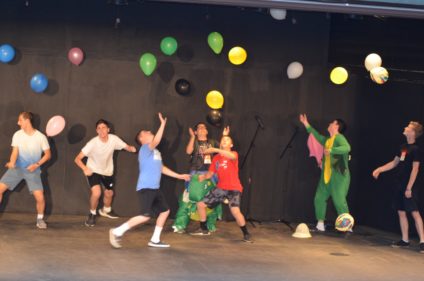 "I lost on Jeopardy!"
Any blog becomes a better blog when you can toss in a "Weird" Al Yankovic song lyric. It's so appropriate, as tonight was our first campwide gameshow of the summer. Our friends over at Camp Louise handed us a playbook for "Minute to Win It," and our Airy programing team brought it to life. Big kudos to Alexis and her team. Pictured are campers in one of the rounds where the challenge was to keep three balloons afloat with just one hand.
Gameshows at Airy have a long tradition. When I was a camper, "Family Feud" was an Airy Olympic staple. Unit leaders stood backstage revealing answers and point values … and drenching unsuspecting game players with Super Soakers. When I became a Unit Leader, we put together "Who Wants to Be a Million-Airy?" Instead of wooden sets and staff scurrying backstage, we used computers and projectors and screens. You could phone-a-friend by asking an audience member.
"Let's Make a Deal" has been a constant at camp throughout the decades. Campers and staff arrive at the Theater in some of the wackiest costumes imaginable. It is always fun to have campers come on stage and hear their bunkmates cheer like it's the Super Bowl. "Minute to Win It" was a combination of the old school and new school. The physical challenges were shown via video, with a feel of "Spy Kids" and "Mission Impossible." But the challenges themselves involved stacking cookies on foreheads, blowing bubbles and using a pizza box as a fan to move an egg across the stage.
Which brings us back around to Weird Al and Jeopardy. Camp has a digital version of Jeopardy that we like to use as a tool for new staff on-boarding. Playing a game makes reading or listening to a Q & A more enjoyable. I can remember leading Jeopardy in the Pargman Pavilion as a rainy day activity. I can vividly see the construction paper category headings and dollar amounts hanging on the wide wall. That was 1995. Everything old is new again, or is it the other way around?
So long until the next blog,
Marty
Today's Birthdays

Happy Unbirthday to All!
    UNIT SPOTLIGHT – Unit E    

Hi avid readers of Marty's blog! My name is Max Weinsweig, Unit Leader for Unit E (Rising 8th Graders). I am excited to tell you what we have been up to this week! Monday night was our first Unit activity where all three bunks went down to parkour and did flips onto mats, rock climbing, warped wall runs, and more! On Tuesday, we had another Unit activity called "Hungarian Handball" which is essentially a mix between ultimate frisbee, water polo and soccer. While that was going on, regular frisbee and hockey was right next door if campers wanted to play that as well. They all showed great sportsmanship! On Wednesday, the entire Unit went on a campout! Some kids went on a hike to Cunningham Falls, others fished, and everyone created and slept in their own shelter! On Thursday, we had a dance social with our sister Camp Louise. I think Unit E had the best dance moves. Yesterday they danced even more at song session and finished up the night watching Iron Man. Today we are playing kickball, soccer, dodgeball and hydrating! Thanks for letting me join in on the blog and I look forward to writing here again!
Max, Unit E Unit Leader
Today's Menu
Breakfast , Lunch , Dinner
Scrambled Eggs | Mini Bagels and Cream Cheese | Cereal | Fruit | Yogurt , Deli Sandwiches | Chips | Salad Bar | Pasta Bar , Spaghetti | Marinara and Alfredo Sauce | Prima Vera Veggies | Rolls | Caesar Salad | Salad Bar | Pasta Bar | Ice Cream

Today's Weather

High: 89°F | Low: 72°F
Warm, then a fast storm, then a nice evening.