News
In Memory of Ed Cohen
By Eric Tublin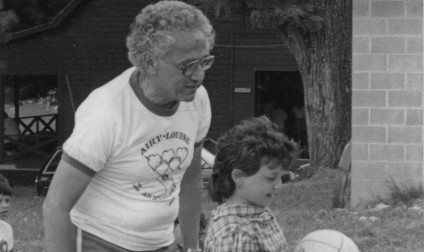 Ed's longtime association with Camps Airy & Louise could have ended as quickly as it began: with a homesick-shortened session as a twelve-year-old in the summer of 1939. Following a career path as an educator that eventually took him from teacher to principal in Baltimore public and Har Sinai religious schools, along with a professorship at Towson State University, the homesick camper returned to head Airy's Junior Division thirty years after that ill-fated summer. Six years later, Ed's vision of a unified Camp Airy was realized as he was named Director in 1975, before moving on to Executive Director of Airy & Louise in 1988 until his retirement in 1997.
Through it all, Ed's love for Camp over his 28 years on staff reflected his lifetime passion for education. He saw camp's counselors as teachers-in-training, even if they hadn't formally chosen that career path. "You will never know just how much influence you'll have over these kids," Ed used to tell the counselors. What they may not have realized in hearing those words for the first time was just how much influence Ed would have on their own lives. The number of campers and counselors who went on to pursue careers in education or social service from Ed's example is evident from the outpouring of postings on the social media since his passing on Saturday.
Ed's love for camp and flair for the dramatic also reflected his passion for the performing arts, as evidenced by the theater that also bears the name of Phyllis, his beloved wife of 65 years. Most of all, it reflects the sense of compassion with which he treated all he managed, recruited and befriended over 28 years. After joining Facebook in his mid-80s, every post to, from and about Ed made it even more apparent how much love Ed still had to share with his camp family decades in age and miles apart, and how much they had in return.
We are thankful to not only Phyllis, but also the Cohen children and grandchildren for sharing your father and Pop with us for so many years. In doing so, you provided a friend, father and grandfather to so many in our family.