Louise Blog
June 28, 2019 – Director's Blog
SHABBAT SHALOM!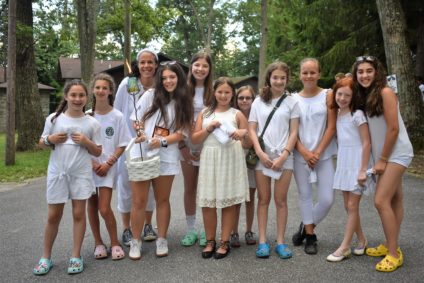 Camp is such an amazing place for so many reasons! Our Middah of the Week program is one of those reasons. Each week, we talk about a different middah/value and how we can demonstrate it during camp.
In their bunks at night, campers talk about the middah – how they displayed it and how others did too. Campers and staff are also encouraged to nominate other campers to light candles with me on Friday night for demonstrating the middah. I always love reading all of the notes where campers proudly tell me why their friends should get this Shabbat honor.
This week's middah was hospitality/hachnasat orchim. What a great way to start off our season talking about how we can welcome everyone into our camp community.
When we have visitors at camp, the smiles and welcomes heard throughout camp are remarkable. This week when we had our 98 ½ year old alum visit (https://www.airylouise.org/newsfeed/directors-blog-june-26-2019/), she and her family were blown away by the welcome they received.  I, on the other had, was not surprised. It's just what we do!
The campers who demonstrated this middah were honored to light candles on Shabbat. Some of the reasons they were selected were:
A Unit A camper made sticker pictures for all of the campers in her bunk and always greets everyone with a big smile.
A Unit B camper offered to give her role in the play to another camper who didn't have any lines and was upset.
Another Unit B camper always pours cups of water for her bunk before lunch. She gets to the dining hall a little early from rehearsal and she never hesitates to do something nice.
A Unit A camper dropped her bowl of pasta in the Dining Hall and this Unit D camper walked by and didn't want her to be upset, so she gave the other camper her own pasta.
Two campers from another bunk told me that a camper in Unit D is always so kind and welcoming at the Health Center. She puts you in a good mood even in the long line.
On Opening Day, a Unit E camper asked one of her counselors if there were any new campers in her bunk.  The counselor said, "a few."  Then the camper responded with, "Okay, I will make sure they feel welcomed and a part of the group." Whenever they play a game or do a bunk activity, she is the first to ask if others want to join or mention if someone has not taken a turn. A few campers in her bunk have been home missing and she offers to walk with them, or just sit with them too.
A Unit F camper has been so welcoming to everyone in her bunk and has been going out of her way to ensure that everyone feels included! At the end of a yoga class, every member of her bunk commented on her being the person they can count on. One person in her bunk said that she makes everyone feel comfortable and makes sure everyone has what they need! Another person said she's like having a "big sister in a big family" – always looking out for everyone. Everyone she interacts with feels her kindness and warmth.
This Unit F camper has helped new girls in her bunk feel welcomed and has helped them adjust to camp.
An ST went out of her way to talk to a camper who was feeling a bit sad. She offered to introduce her to her friends and dance with her at Airy last night.
This CIT has made a HUGE effort this week to have a conversation with every single CIT. She has a goal to have a deep conversation and laugh with every single CIT by the end of the summer. This embodies the middah to make everyone feel included and part of the community.
We are so proud of how hospitable all of our campers here at Camp Louise are. And as Maya Angelou so beautifully said:
"I've learned that people will forget what you said, people will forget what you did,
but people will never forget how you made them feel."
Shabbat Shalom!
Alicia
Today's Birthdays

Garri – Bunk 22
UNIT SPOTLIGHT – Unit E

Today we had our first complete camp Shabbat and folkdance of the summer. This being my first summer at camp, I was very excited and so was my unit. Many of my campers in Unit E were ready to show me all the dances they knew and teach me the steps. It was a great bonding experience for our Unit and I am already looking forward to next week's folkdance.
Amanda, Unit Leader – E
Today's Menu
Breakfast, Lunch, Dinner
Cheese and Veggie Omelets | Hash Browns | Veggie Sausage | Melon, Stuffed Shells | Garlic Cheese Bread | Texas Toast | Italian Veggies | Salad Bar | Pasta Bar, Grape Juice | Challah | Noodle Soup | Brisket | Chicken | Potato Pancakes | Roasted Mixed Veggies | Salad Bar | Pasta Bar
Today's Weather

High: 88°F | Low: 68°F
The sun continues to shine down on us here at Camp Louise!