Airy Blog, Louise Blog
Siblings At Camp: Building Bonds That Last For Life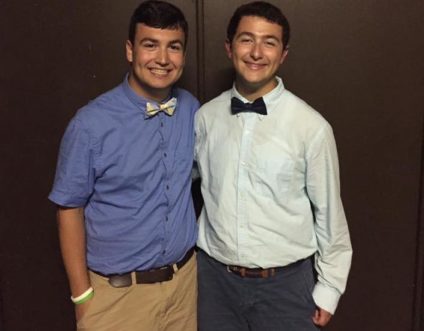 Going to camp is always a unique, life-changing experience. You meet new friends, try new activities and gain valuable life lessons you never would have learned at home or in school. Even more special, is going to camp with a sibling. Visiting that special home away from home with a member of your family enriches your relationship with your brother or sister, tightening your bond forever. Take the example of Josh and Seth Tow, two brothers who have attended Camp Airy for a combined 22 years!
Shared experiences help you grow together
Remove the rigid confines of the familial home, parental expectations and the pressure of school. Insert the large expanses of campgrounds, bonfires, singalongs, canoe trips and mess hall food. At camp, siblings find comfort in each other – the familiar in a sea of new and unknown. Away melts any rivalry, allowing them to truly grow and bond. Or, as the Tow brothers explained:
"Seth: Growing up, Josh and I weren't very close.
Josh: I was into theater and Seth wasn't, while Seth was into sports and I wasn't, but our time together at camp, and especially CIT summer last year, gave me and Seth a common experience to bond over, and that's strengthened our relationship a lot.
Seth: I've never felt closer to Josh than I have since he went through CIT summer."
Individual experiences help you grow in parallel
Unlike at home, siblings do not live under the same roof or have to spend time together at camp. It's a choice. As are the activities they can opt to partake in and the friends they can decide to hang out with and truly discover themselves.
Josh Tow wasn't a very athletic camper, as he explains.
"I stopped doing sports and athletic activities outside of camp because I wasn't winning and I felt like I was bringing the team down by playing. All this changed when I came to camp. While yes, I was always a drama kid and did the plays, camp still taught me it was more important to have fun playing a sport instead of just winning. My bunk would consistently lose rivalry games year after year, but camp gave me the courage to just have fun playing sports."
Seth, on the other hand, enjoys a physical challenge, but as a camper grappled with fear.
"Earlier this week, I went on the Via Ferrata with CIT 2017. The first time I went on this trip back in 2014, the climb freaked me out too much and I took an escape about a quarter of the way up. I've never regretted that, and I still don't, but I always wondered what the rest of the climb really looked like. I wondered what it felt like to be at the very top. Three years later, I found the courage to go all the way to the top. If I wasn't with my camp family, I don't know if I'd have done it. But camp gives me the comfort to summon courage and try things I'd never do anywhere else."
When biological family meets camp family, the bonds that form are everlasting. Without parents around, siblings are simultaneously able to better express themselves as individuals, while growing closer together as a family unit. At Camps Airy & Louise we offer siblings a wonderful familial experience away from home. Contact us at 1-410 466 9010 or via this email form and we'll be happy to answer any questions you may have.