Airy Blog
SPECIAL – Assistant Director's Blog – August 8, 2016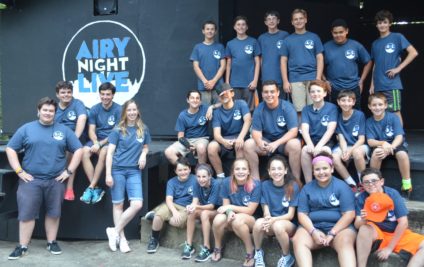 by guest blogger, Jason Creeger, Assistant Director, Camp Airy
Tonight Camp Airy enjoyed our last theatre production of the season, entitled "Airy Night Live." It was a fantastic production and really showcased the creative minds of campers and staff involved in the Drama Department, with the vast majority of the skits and jokes being written by the campers themselves. Even the music between each act was written by our own Music Department and if you listened closely, you could hear a different rendition of our own "Good Night Song" in each one.
The show contained a variety of sketches, jokes and monologues that would have made Billy Crystal, Adam Sandler and Jon Stewart proud. The night began with monologues from everyday items such as shoes, blenders and i-phones. The show had a sketch about "Man-up" at the Dairy Queen, which featured jokes such as "I'm so manly that I only sneeze because I want to," followed by sketches on celebrity charades, note-passing in the classroom, and a PSA about kindness from the "Airy Middot Department."
The cast members from Louise showed their comedic prowess tonight with a hilarious sketch on "What guys think women do" vs. "What girls actually do." It made both campers and staff members laugh out loud.
The show concluded with an Airy Update featuring some political humor and some good-natured Airy jokes. Following the show we ended the night as a community by singing the "Good Night Song" and then headed off to snacks at Campteen. It's hard to believe that this camp session and the summer at Airy have less than a week to go, but we are still making every day and every night full of memories.
Jason
Today's Birthdays
none
Today's Menu
[table "" not found /]
Today's Weather

High: 82°F | Low: 64°F
Mostly Sunny – a nice day!